Gov. Beshear announces 546 new COVID-19 cases, one death Wednesday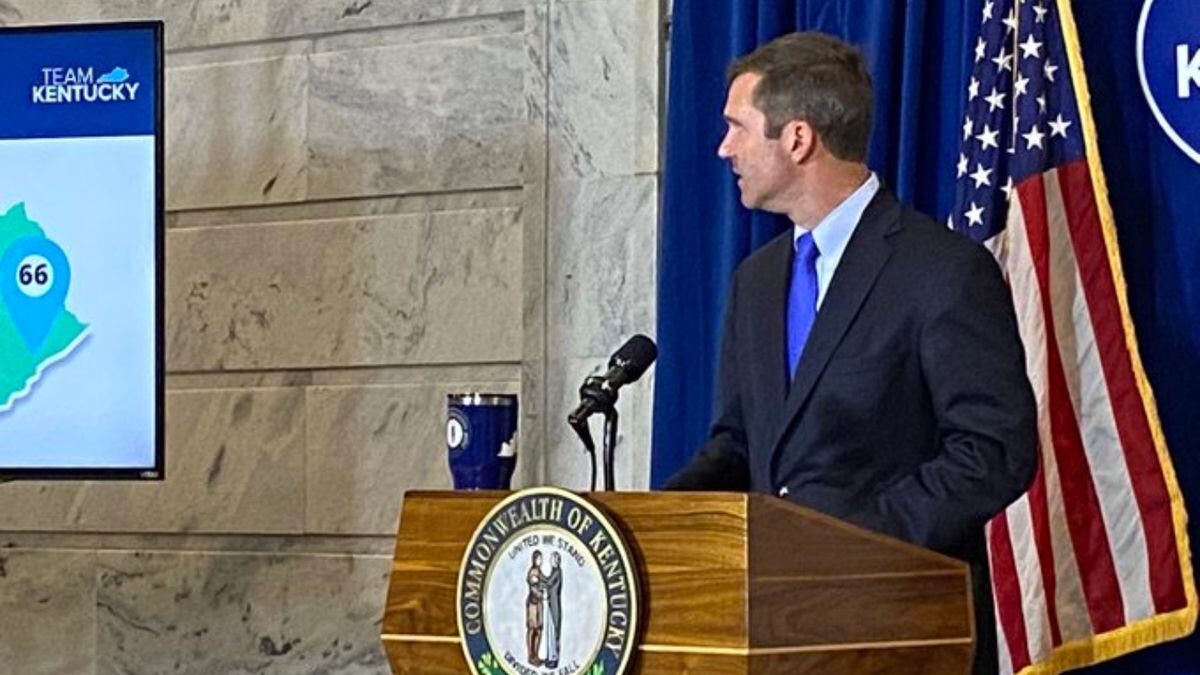 Published: Aug. 5, 2020 at 3:54 PM EDT
|
Updated: Aug. 6, 2020 at 7:58 AM EDT
FRANKFORT, Ky. (WYMT) - Governor Andy Beshear gave his Wednesday COVID-19 update from the Capitol in Frankfort.
You can watch that live here:
The governor announced 546 new cases and one new death in Kentucky.
At least 32,741 Kentuckians have contracted the virus. The death toll is now at 752.
"That is still one family that will need our help," Gov. Beshear said. "We pray and think about this family and what they must be going through, as we have with all of the families."
8,467 people have recovered from the virus.
663,100 Kentuckians have received tests.
21 of the 700 new cases were children under the age of five. One of these cases was an 18-day-old child.
"Today's number strongly suggests and I believe it's evidence that face coverings are working," the Governor said. "Proving that even when other parts of the country may be escalating out of control, that we can still control our own destiny here in Kentucky with a small act that shows we care about each other."
"This is not going to last forever," the Governor said. "We are going to make it through, but we are going to have to do what it takes to make sure as many of our fellow Kentuckians make it through with us and that we protect each other's lives, lift up our economy and do everything we can to get our kids back in school."
Kentucky Department for Health and Family Services Secretary Eric Friedlander also gave an update on benefit programs and the safety of long-term care facilities.
"We want folks to sign up for benefits," Secretary Friedlander said. "It makes sense to have health care coverage during a pandemic. It also makes sense to have food during a pandemic."
Friedlander said approval of a waiver under the Families First Coronavirus Response Act was granted, giving Kentucky families an additional six months of SNAP benefits that would have ended June 30. This is in addition to the extension of benefits expiring in March, April, and May.
"Take advantage of signing up. When you get SNAP, you support your local grocers. When you get Medicaid, you support your local health care industry," he said. "Without Medicaid, the health care industry would collapse. Without SNAP there would be significant damage to our grocers and local communities."
Friedlander also said funds from the CARES act are being used to test staff in every Kentucky long-term care facility every 14 days for COVID-19.
WYMT independently confirms all coverage area positive COVID-19 cases, along with any coronavirus-related deaths, with local health departments before publishing any details.
If you have any questions about the coronavirus in Kentucky, call the state's COVID-19 hotline at 1-800-722-5725.
You can also find more information, including how to protect your family, by visiting Kentucky's official COVID-19 website: https://govstatus.egov.com/kycovid19
Copyright 2020 WYMT. All rights reserved.